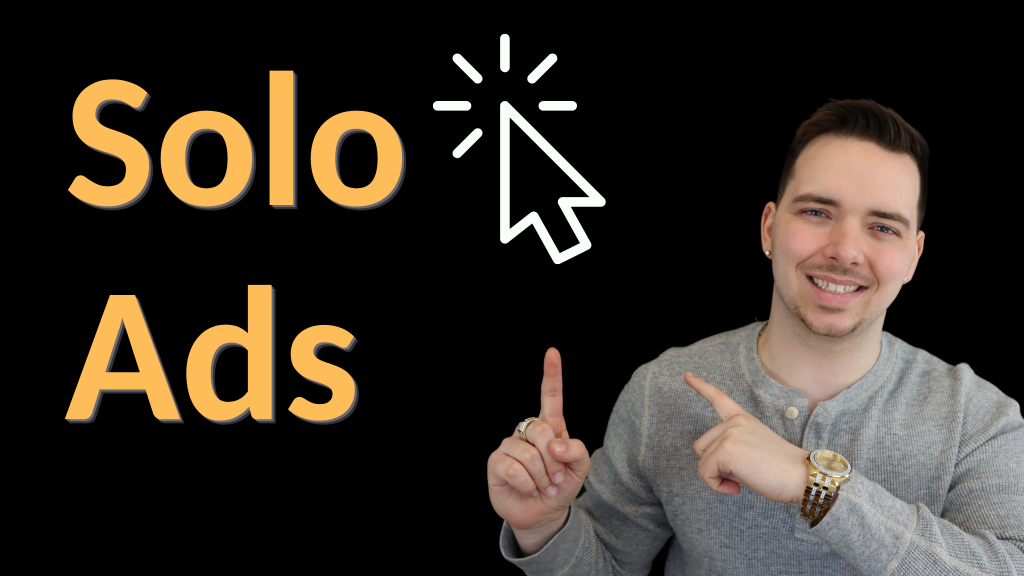 Solo Ads
You'll find that solo ads are among the most profitable traffic sources that you can invest in. Solo ads have been around for almost two decades now, and they've been used in a variety of niches and industries. The reason why some people prefer solo ads over other forms of traffic, is both based upon speed of delivery – and the quality of traffic delivered. The reason why the speed of traffic is quick, is because the traffic comes from a targeted email list. When email broadcasts or blasts are sent to a list, the amount of people who are going to click quickly happens within a few hours. This means that you can have a couple hundred to sometimes a few thousand clicks delivered within a small time period.
Often solo ads can be more targeted than other forms of traffic as well, especially since you can work with specific solo ad vendors that deal with your specific niche.
People often include their active buyers list in the people they broadcast out their solo ads for. This means that active, qualified, money holding leads will get your messaging to possibly buy your products and services.
This review and walk-through of Solo ads will cover what we've discovered from spending 5-6 figures on solo ads over the past 10 plus years.
Solo Ad Providers
There are a select few top solo ad providers that you should seriously consider if you're going to see great returns on what you spend on solo ads.
The 4 main solo ad companies and providers we suggest are the following…
Each of these solo ad traffic providers offers their own uniqueness and benefits. TA has the highest quality profit producing traffic. Udimi solo ads has the largest variety of traffic vendors for you to choose from. Finally, TrafficForMe is simply the 3rd best traffic source we've tested with 5 figures worth of ad spend, and has the most niches you can reach. MLM Leads is going strong as well, and been in the solo ad business a very long time, producing quality leads and results for customers. Each of these solo ads providers can be used to expand your leads and customer base, there is no doubt about it. We buy solo ads from all 4 of them on a regular basis.

Solo Ads That Work
How do you make solo ads work? What do solo ads that work look like? The best way to make sure your solo ads create profit for your business is by doing the following…
1. Choose a solid, ethical, leading solo ad company to work with.
2. Make sure that their traffic matches up with the kinds of viewers and prospects you expect to be buying your products and services.
3. Order a large enough solo ad to do a true test of a traffic source. I recommend that you buy a traffic package that has a minimum of 500 clicks to be sure of a true test of profitability.
4. Once your traffic has ran, it is partially your responsibility to get people to buy, through following up with your new subscribers.

You'll want to email your list and new leads that just arrived. By emailing your leads frequently, you'll increase your chances of turning your leads into customers and sales. This is the absolute truth and reality to making solo ads work effectively. Solo ads do produce sales and results by themselves, but true results from any traffic ALWAYS comes from your follow up.
Follow up is king, traffic is queen! Have both going on, and you'll see massive profits and revenue from all of the solo ads that you invest in.
How To Start and Grow a Profitable Online Business Today!
Learn How We Make Over $997 Daily From Affiliate Marketing & How You Can Too
"Get Your Step-By-Step System to a Hyper-Profitable Business"
Your Success Is Our Obsession
"Jon and Richard have directly made my company well over a million dollars, and I couldn't be more happy with everything they've done for us. If you're lucky, they'll let you work with them!"
"I you're seeing this right now align yourself with John and Richard. Just like people have lifted me up and helped me get to where I am today... John and Richard can do the same for you. "
"Jon and Richard will help you solve any problem you're having in your business. They are ready to help you, and know their stuff like the back of their hands. I trust Jon and Richard because they deliver results!
Turn Your Passion Into Profit