How To Use Sendshark For Email Marketing
When using an autoresponder in order to improve sales for your business, you want to make sure you're using the right tool. There is a variety of different autoresponders and email marketing tools in the marketplace yet we've found Sendshark to be among the top in the industry. Because of this fact, we're going to walk you through exactly how to use Sendshark for email marketing, regardless of which industry or niche you're in. This walkthrough will teach you how to use Sendshark for email marketing and why Sendshark is an incredible email marketing autoresponder to use.
Autoresponders like Sendshark are needed in order to automate your follow up and communication with leads. The better the autoresponder or CRM you can use means you'll get…
Higher open rates
Higher click through rates
Better email deliverability
Reduced bounce rates
And much more.
Sendshark for email marketing
In today's business world, an email list has become as important as having a website. People are turning to email as their main way of communication and sometimes people can forget about their websites altogether. With this trend in mind, Sendshark for email marketing is a tool for those who want to stay on top of this trend. Sendshark allows users to create newsletters and send them out automatically with a designated schedule. There is a Sendshark demo at the end of this article.
How Email Marketing Works
Email marketing is one of the most profitable ways to communicate with leads and scale a business. When you've mastered email marketing, you're able to convert your leads into sales / customers on a daily consistent basis. The reason why email marketing works so well, is because you're able to communicate with a massive database of people with messaging right to their inbox. By being able to write very persuasive copy and contacting thousands of people at once gives you the ability to get your message into the market place extremely efficiently.
Email marketing works by allowing you to gather people onto your "list" and by doing so they become a "lead" on that list.
Once someone is a lead who has subscribed and is on your list, you are able to email them as often as you want.
You can email them as well, anything that you desire. Businesses and companies love building their own email list because their is no limit to what you can send the leads on your list. You can't be shutdown by ad companies, and you can't be kept from saying anything that you desire to say, it is your email list.
Why You Need Autoresponders For Email Marketing
You'll find that the only way you'll be able to do email marketing successfully is with an autoresponder or CRM. (customer relationship management software)
Either of these digital marketing tools, will allow you to be able to gather emails, and manage the leads you are able to generate through your marketing. Autoresponders like SendShark are the most efficient ways to market and communicate with any audience on the planet. With most social media marketing strategies for examples, your content almost NEVER reaches your entire database of users. With email marketing, you can be virtually 100% certain that every single person on your list is getting the emails you are sending out.
Autoresponders are the best way to automate the follow up process in email marketing, in which follow up is the #1 action and strategy used to close leads into customers. Without an autoresponder or CRM, there is no follow up and no way to gather or communicate with leads in an automated way.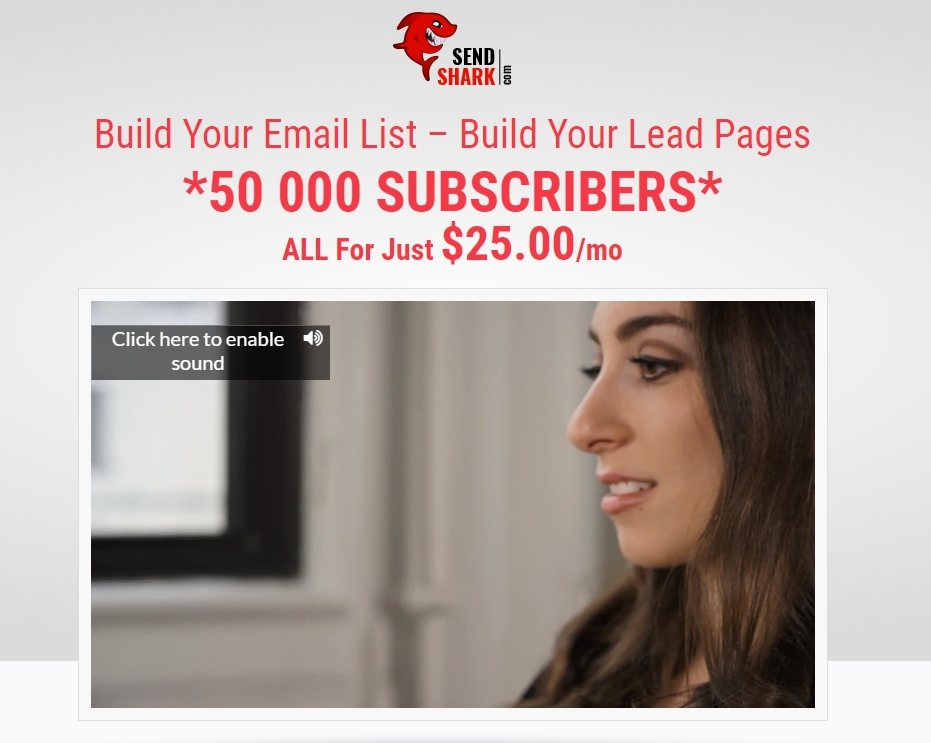 Why Sendshark Is The Best Autoresponder
You'll find that after using Sendshark you've been able to pick up the best autoresponder and CRM in the marketplace right now. Sendshark is the cheapest, highest quality, and highest deliverability autoresponder that is available. You see, we've been using autoresponders and CRM's for well over a combined 27+ years. And we've used all of the other mainstream and alternative email marketing tools you can find, yet Sendshark has gotten us the best response and results so far.
You'll get some incredible deals with the Sendshark autoresponder that no where else can provide. If you take a look at pricing, Sendshark is cheaper than literally ALL competitors in the marketplace by 50%!
How To Use Sendshark
In order to use Sendshark for your email marketing, you'll need to be follow the proceeding steps that I will lay out before you.
Join Sendshark and create your account. You'll want to join Sendshark by clicking HERE now. All you have to do is put in the details you want for your login information, put in your payment details, and also go ahead and select the package that you want to sign up with.
Login To Sendshark. Once you've signed up, you'll want to Login with the username and password you decided upon when you signed up.
Create A Campaign. Once logged in, go to "Digital Products". Then click on, "Autoresponder". From there click on "Add Campaign", and you will have more specific instructions that walk you through exactly how to add a campaign. Look out for as well the video icons in your back office they will guide you even more.
Create An Opt-In Form. After you've created your campaign, click on "Forms". Then follow the instructions and highlighted easy to follow training videos that will walk you through the simple way to create a form that you can plugin anywhere in the internet.
Get Leads To Your Opt In Form. After you've created your subscriber form or opt-in form, you'll want to go ahead and grab your form, and paste it into any page, sales page, opt in page, lead capture page, home page, etc that you'd like! Don't have a page, do not worry, Sendshark comes with a easy to use lead capture page builder with full integration.
If you watch this Sendshark video demo here, you'll see how easy it is to send an email to your leads with Sendshark.
Once you are able to gather leads and start building your email list, you'll of course need to drive traffic in order to generate leads in your business.
If you want to get quality traffic that converts highly then you'll want to use paid or organic traffic sources.
Please also read: How to get targeted traffic to your website
In conclusion
Sendshark is the best email marketing solution for small businesses and will allow you to send unlimited emails to your customers and leads for very little cost. When you know how to use Sendshark for email marketing, you simply can not fail. The simple to use interface makes it possible for anyone to be successful in email marketing. Sendshark's technology allows the user to create and schedule their own campaigns, while also selecting from pre-designed templates that can be used for any industry.
How To Start and Grow a Profitable Online Business Today!
Learn How We Make Over $997 Daily From Affiliate Marketing & How You Can Too
"Get Your Step-By-Step System to a Hyper-Profitable Business"
Your Success Is Our Obsession
"Jon and Richard have directly made my company well over a million dollars, and I couldn't be more happy with everything they've done for us. If you're lucky, they'll let you work with them!"
"I you're seeing this right now align yourself with John and Richard. Just like people have lifted me up and helped me get to where I am today... John and Richard can do the same for you. "
"Jon and Richard will help you solve any problem you're having in your business. They are ready to help you, and know their stuff like the back of their hands. I trust Jon and Richard because they deliver results!
Turn Your Passion Into Profit