There is no way around it, if you are wanting to make money online, you are going to need to know how to get targeted traffic to your website or marketing funnels. Without targeted website traffic, creating an income online will be like shooting arrows in the dark.
So first lets give you a better understanding of what targeted and untargeted website traffic is, and why it is so important to go after targeted website traffic.
What is targeted traffic?
Essentially, targeted traffic means, people who are actively looking for what you have to offer. You want to find the people who desire what you are selling.
What ever you are selling, whether that is digital products, physical products or some kind of service, if you do not find people who are looking to buy what you have, you will make little to no money.
High traffic numbers can be a great thing, but if the traffic isn't targeted, the numbers are just there for your amusement.
Untargeted traffic.
Have you ever had statistics to show people are visiting your offers or website, but no one is buying or signing up?
Untargeted traffic means – anyone that comes to your website with zero interest in your products or services from the beginning.
Have you ever went and checked out a website, product or service just because you were curious or someone gives you a link to check out and you go there just because?
Yes we all have, and 99 times out of 100 you will have not purchased or signed up for anything, UNLESS there was a VERY enticing offer related to something you REALLY liked or maybe purchased in the past.
I have scratched my head many times in frustration as I was learning how to market online, because I would see in my tracking all these visitors landing on my offers, but hardly anyone was purchasing. It did not make sense to me at the time, but as I learned the differences between targeted and untargeted traffic it made perfect sense.
I was targeting the wrong people, just because I was getting people to visit my websites and offers, does not mean they had any intent or interest in purchasing what I was trying to sell.
Just because your throwing mud on the wall, does not mean any of it will stick, make sense?
Why is targeted traffic so important?
Because 99 times out of 100 untargeted traffic will not buy from you. So you need to find people that are interested in what you are offering, you need to target these people.
It is called "buyer intent" the more you are able to find and attract people who are looking for what you have, the higher your conversions will be. So the less it will cost you in time, energy and money to get customers.
This is the secret to getting all of the leads, signups and sales you have ever wanted.
Two ways to get targeted website traffic.
Manually – Free.
Well it is not really free, you would still have to do the work to get the traffic, your just not directly paying for it, you may have paid for it once, like in taking an SEO course as one example.
But you would still need to do a ton of work in optimizing your website, researching keywords and producing content to attract people who have buyer intent.
Free traffic is often called "organic traffic", and sometimes you can see it referred to as search traffic or viral traffic.
There are many sources where you can generate so called "free traffic" from in addition to search traffic. Such as Social media sites like, Facebook, Twitter, Instagram, Pinterest, and Linkedin. Youtube is also a highly effective organic marketing strategy, and now the second leading search engine in the world.
These types of Social media sites is where you would cultivate an audience interested in your offers, you would do this through interactions, posting content and engaging with your followers, and attracting new ones.
The myth lies in the idea that organic traffic has zero costs. This is entirely not true. In some way, shape or form, you are paying for it with your time, and or courses you have taken, products you have bought or for the content creation itself. Somewhere along the way you will need to pay for something to generate free traffic in an effective manor.
Even if you created and published all of the content yourself, your time costs money. How many hours a day are you willing to do this, if your a one man or woman band, I hope you have a lot of time to spare!
So, why do people call organic traffic "free traffic?" That is because they do the work and pay for it in some means ahead of time to reap lasting results in the long run, that they no longer have to pay for.
Similarly, when it comes to generating free viral traffic from social media sites, you probably will need to take a course to learn how to or hire someone to create engaging content for you, which will then have a chance to go viral.
All in all, creating good content that attracts the right people, might require an upfront investment of some kind, however, it paves the way for generating perpetual free targeted website traffic in the future.
One piece of really great content can sometimes bring in targeted traffic for years, and it only took the cost once to produce it.
Leverage Money – Buy it.
This is the ultimate and fastest way to start getting targeted traffic to your website and offers, just buy it.
It can have an immediate effect on your business and ROI when done right.
Buying targeted website traffic is very straightforward, because you will be able to target people by country location, zip code, keywords, age, gender, education, profession, etc. (depending on the traffic platform you are using)
I mean if your selling women's clothing, your not going to want to target men per say. The more niche specific, the more targeting you will want to do, to find buyers. Make sure and watch the video in the beginning of this article, as it will explain a lot more in detail.
Where to buy targeted website traffic.
It is all about targeting, there are many places you can buy traffic from as I explained in my video above. I also shared with you in my video the kind of traffic sources to stay away from and why. Listed below are the best quality traffic platforms to purchase from.
Pay Per Click (PPC)
This is one of the most effective ways to find your target audience and find it fast. But a word to the wise, do not go into it blindly, take an inexpensive course and learn the ins and outs before doing PPC, you will thank me later.
These are the four largest and most commonly used.
PPC Courses.
Facebook Ads- FB Ad Course
Microsoft Advertising – MS Ad Course
Google Adwords – GA Ad Course
YouTube – YT ads course
YouTube ads can be pay-per-view (PPV) or pay-per-click (PPC) based on whether you are using a text ad or video ad. Because YouTube is owned by Google, its advertisers benefit from the depth of Google's user data. YouTube also has text ads now above the video search results, they look like this: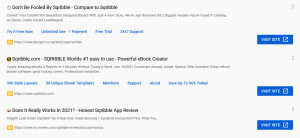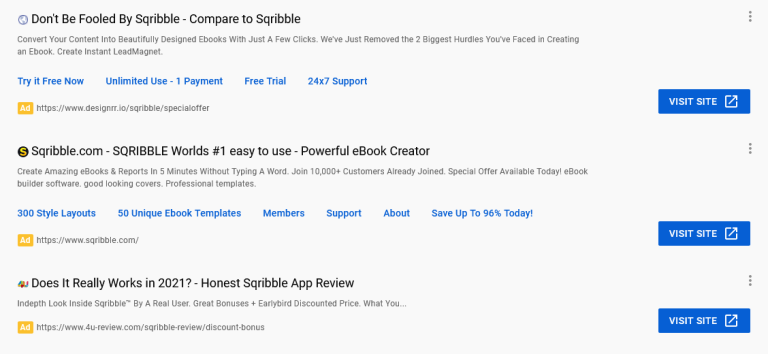 Solo Ads.
Yes, solo ads have their place for marketers and entrepreneurs that are promoting products and service in niches such as these..
1. Make money online
2. Network marketing
3. MLM opportunities
4. Affiliate products
5. Business opportunities
6. Software & courses related to these niches
Solo ads are arguably the best way to go when in these types of niches. They are a fast way to start building ones email list and start generating sales.
With solo ads, you are able to do email marketing using other marketers and companies email lists. Solo ad packages are sold usually by the click. Their list are usually comprised of people interested in these specific niches, who are already proven to buy these types of opportunities, products and services.
For more information on solo ads, please click here to read this article.
Top Solo Ad Seller.
For an in depth review of Traffic Authority click here.
In closing:
Always remember that not all website traffic is equal. You want high quality targeted website traffic. High quality traffic that is laser targeted is going to generate a MUCH higher ROI than traffic that is not.
1000 untargeted visitors is not the same or nearly as effective as 100 targeted visitors.
So please take the advice I gave out in the video and through out the article so you will know how to get targeted traffic to your website and offers.
It is all about quality versus quantity, highly targeted traffic will lead to much more sales.
We really hope this article has been extremely helpful to you. If you have any questions, don't hesitate to post them in the comments section below or just say hello 🙂
Sincerely,
Your Friends And Partners
Richard And John Weberg