We Have Over 2 Decades Of Affiliate Marketing Experience.
Affiliate marketing has made us multiple 6+ figure incomes and my son and I have been in the affiliate marketing space now for over 27 combined years, and to be honest, the only time we did not have our own websites was when we were making no money..
Meaning…
We really never started making money online, until we had our own websites..
Build Your Own Business.
We were also in those first years only sending leads to other people businesses as we had no website or web presence of our own. So building our own email list was also out of the picture..We just built other peoples.
Not very smart, so our pocketbooks reflected this..
This was extremely frustrating, and felt like we were just trying to recreate the wheel. The longer you are online and in the marketing trenches you will eventually come to certain realizations.
Like..All successful online marketers and businesses have their own websites in one form or another, maybe I should have one as well..?
Really think about that, because you are on our website reading this right now, if we did not have this website you would not be here..Make sense..?
Dominate Sales Leader Boards.
We Started Dominating Affiliate Marketing Sales Leader Boards.
Because..
As we learned to build and create our own websites, is when we really started making money online from affiliate marketing promotions..And what we noticed over time was, as we got better at building websites and our web presence online, we made even more money!
In fact…any affiliate products we decide to sell and promote now that have a leaderboard for sales, we simply dominate it…
Why is this..?
Because the competition is far and few between..Meaning the masses of people trying to make money online, try to do it without a website or web presence..They just become an affiliate for companies and then promote their offers with the affiliate program links..Hence you are still only building someone else credibility not your own, because they are not visiting your site first and getting to know you..
Become The Marketing Authority.
Having your own website helps you to become an authority, it helps you build like, know and trust with people way faster..Which are the key ingredients in making sales online for anything..
Think about this..
Why do so many people buy from companies like Walmart and Amazon, is it because people just select them at random or is it because people like, know and trust them?
And the longer you have your websites and have built your web presence online, the more people will buy from you, because just like Walmart and Amazon have done, over time you build your credibility and your authority..More people, like know and trust you… Hence you make more sales..Make Sense?
Why most affiliate marketers don't have their own websites?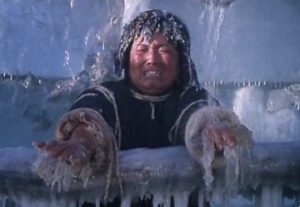 The biggest reason is Fear…
They get frozen in fear..
Fear that they will not be able to build a website.
Fear that some how they will mess it up.
Fear that no one will ever buy from them.
Fear that they will waste their time and money.
Fear that it just will not work.
We know that fear is what stopped us at first and why we waited so long to create our own websites..
Letting our fear stop us, also meant we made no money.
Do not let fear stop you from doing affiliate marketing the right way.
Building your own website use to be a very complex and monumental task. It was very technical and you had to learn how to code. It involved a do or die trying attitude, plenty of hair-pulling out, and endless hours of search online on how to do the different parts of it..
I remember the first site I created online, it took me months to get it up and running..I was mentally exhausted..
Now fortunately today you can have a website up and online very quickly and begin adding content to it..There are so many software tools to help you now, that did not exist before..The tools make it WAY easier, and there are courses that will help you do it and walk you through every aspect step by step, just like our EmoneyPeeps course here.
Years ago when I set up my first website, there were no real courses on how to or tools, only some pdf's with some really vague partial instructions..
Today there are website creation options for affiliate marketers.
1. Have a website built for you by a professional web designer or agency, and have them manage the ongoing maintenance of the site for you. You would have to either learn how to market it, and or pay someone to do that for you as well. (This is a very expensive option and usually reserved for those with a starting budget of $20,000.00 or more)
2. Pay a professional web designer or agency to build the site on your behalf, you learn how to make straightforward changes, and you manage the site going forward. Pay them every time you get stuck or need to make major changes. You would have to either learn how to market it, and or pay someone to do that for you as well. (Again this option is very expensive and usually reserved for those with a starting budget of $10,0000.00 or more)
These first two options leave you with limited control as well, as you did not learn the whole process and can not duplicate it, without  paying some once again.
3. Take the time and learn how to build, manage and promote your website through a professional course like ours. Which will walk you through every aspect of building your web presence online step by step, through video screen share and our private community group. We will also teach you how to market it. (This option is the least expensive and you will have a website up and running for around $600.00) When you have questions you will have our on going support and help.
4. You could do it all on your own. You would need to research what platform, web hosting, autoresponders, plugins, settings, themes and conversion tools to use and how to put them all together.. You would also need to figure out images, and how to create and use them.
You would need to figure out how to promote your website all on your own as well. The danger in doing it all on your own is that you're taking snippets of information from all over online and trying to piece them together to create something that will actually work and convert into sales. (This option could actually be the most costly, because it would pretty much be by trial and error)
Regardless of what option best suits you.
If you ever plan on turning your affiliate marketing into a full time income, build a website and a web presence online!
From our years of experience and professional opinion, building a web presence for affiliate marketing is an absolute must do!
Please leave us a comment below if you have any questions or need help in anyway, or just say hi 🙂
Remember to always be kind..
Sincerely,
Your Friends And Partners
Richard And John Weberg