This is our Content Gorilla review 2.0, and as a bonus, we actually use the product.
We say bonus, because a lot of time the reviews you find online, the person doing the review does not even use the product.
They are only doing a review on the product in hopes that you will buy it from them.
This has never made sense to us to try and sell something we do not even use.
Now, the most difficult part of marketing is finding content for your website. It can be hard to come up with original, creative content on a regular basis. That's where the Content Gorilla software comes in handy. With this easy to use software, you can have new content on a regular basis without writing it! You just find YouTube videos on the topic that you want covered and Content Gorilla does the rest – providing you with blog post content, email content, full articles, tags, and more!
Our Content Gorilla 2.0 review is based on our personal use of the product.
In fact, click here to see another blog post we did the other day, in this article you will see a video webinar we did, and we used Content Gorilla to extract all of the words from this video webinar.
(Over 9000 Words) All the text in that article below the video webinar was created by Content Gorilla with just a few clicks, and a few edits we made.
How Easy Is Content Gorilla To Use? Seely Clark our master trainer here at EmoneyPeeps, will show you a short demo.

Watch our Content Gorilla 2.0 demo tutorial video.
Now that you have seen how Content Gorilla works first hand, let us explore more of the key features that will save you time and money in building your own online business content.
Content Gorilla 2.0 Features.
1. With Content Gorilla 2.0 – You can extract every word said in any youtube video & create 100% high authority, search engine friendly & human readable text (content) in literally minutes! (Watch Video above to see demo of how this works)
2. Search and create content in 105 languages – Find videos using Keywords, Video URLs, Playlist URLs or Channel URLs.
3. Deep search filters – Sort search results by relevance, recency or views and find videos with creative commons license.
4. Correct grammar mistakes – A very crucial feature that allows you to 1-click correct any grammatical errors in your content using our built-in grammar correction tool. (Watch Video above to see demo of how this works)
5. Punctuation included – Some videos, when converted to text don't have punctuation. Using Content Gorillas AI powered punctuator you can in just one click add punctuation to your new piece of content. (Watch Video above to see demo of how this works)
6. Converts Tags – Content Gorilla will automatically converts tags from your videos into post tags that will go automatically to your blog to tell Google what keywords your content should rank for.
7. Instantly Integrate with WordPress – Connect Content Gorilla directly to your blog and you can instantly post your new piece of content. Also Allows you to select multiple videos and post to your WordPress site at the same time.
8. Social platform integrations – Built-in social media integrations to help you syndicate your content to social media channels like Facebook pages/groups, Twitter account & Linkedin.
9. Internal linking – Automatic linking to related content already on your blog. Allows minimizing the bounce rate which is one of the biggest factors in terms of organic rankings.
10. Article Re-writer – Use Content Gorilla's high-end article re-writer to rewrite any of your content from around the web. Simply paste, click spin & take it wherever you want! Repurpose content. When you repurpose your content, you can yield more output with the same amount of input, while maintaining quality.
Plus much more..
One of the key features we want to really highlight here, besides the amazing fact you can convert any YouTube video into a fully formatted WordPress blog post. Is the tag converter, this is truly a HUGE bonus. See tags in YouTube videos are keywords, and there are people who know how to rank YouTube videos extremely well, they know what keywords to go after and why.
The tag converter will literally pull the keywords from any YouTube video. You can then use those keywords (tags) in your own blog post, without having to do all the research in having to find keywords for the same topic to go after. If you understand content marketing at all, then you will realize that this feature a lone is worth the price of admission!
Content Gorilla 2.0 Will Save You Oodles Of Time And Money!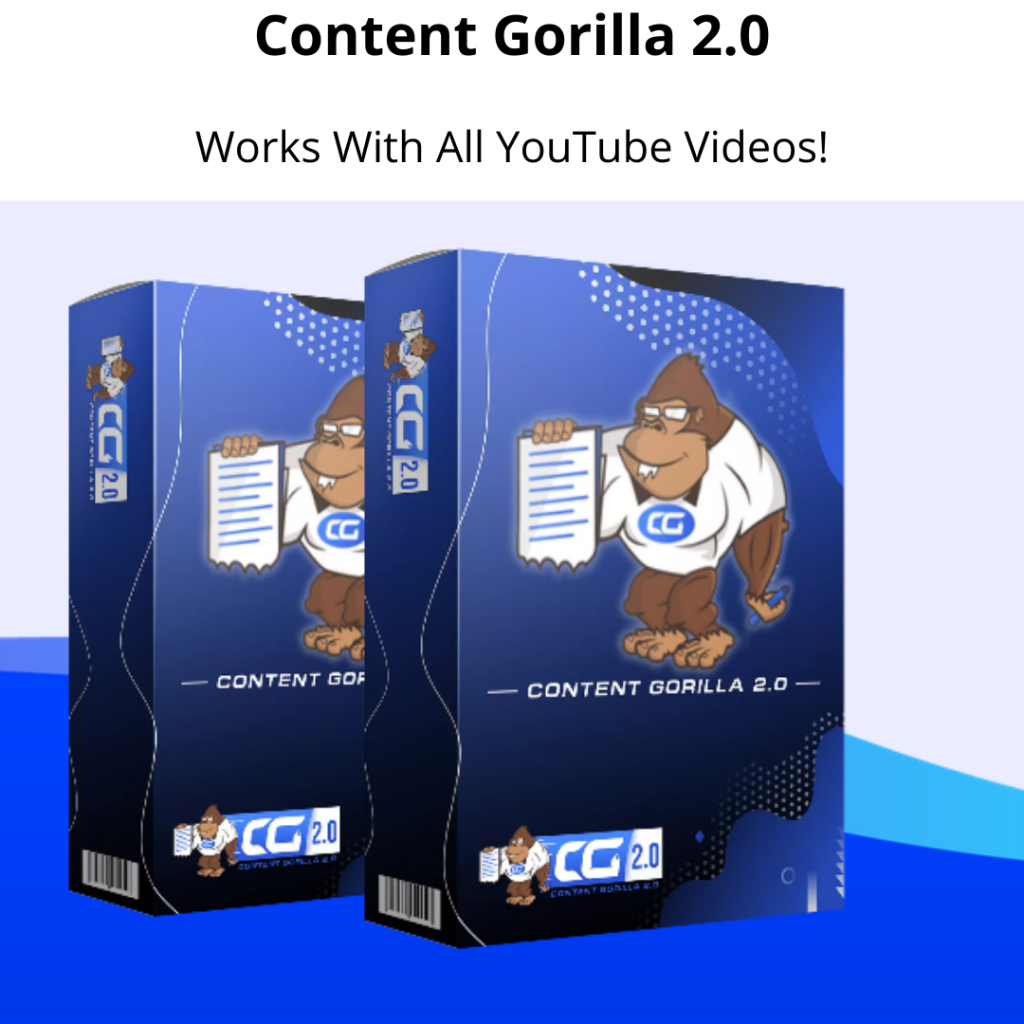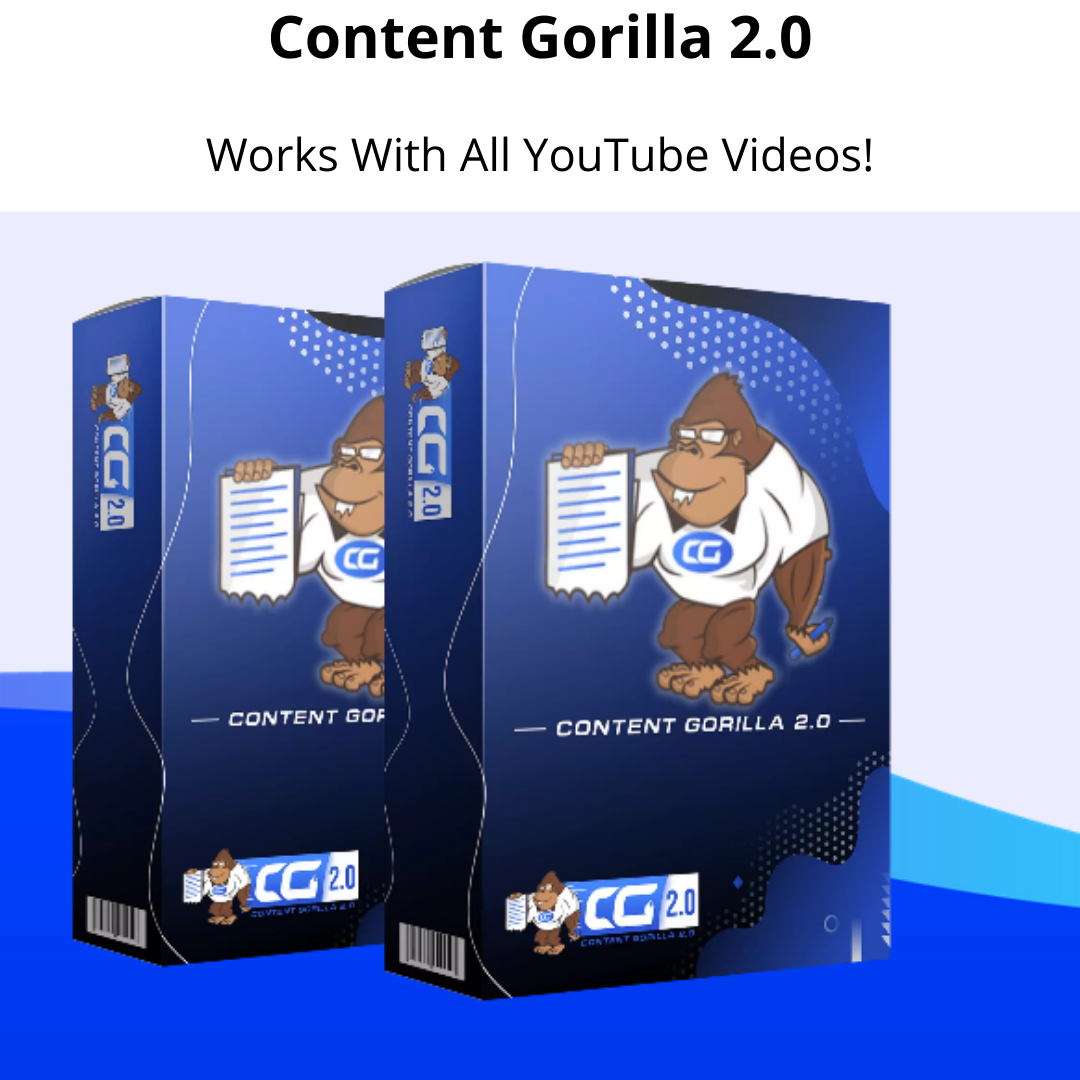 Content Gorilla Frequently Asked Questions.
When was Content Gorilla originally launched?
Answer: June 2019
What features have been added since then?
Answer: A lot of new things (including stabilization) have been added, but more specifically, these features listed below.
– Multi publishing at a time with one click – NEW
– Punctuator included – NEW
– Post Archive – NEW
– Integrations (LinkedIn, Twitter, Facebook Pages & Groups) – NEW
– Create an image for posting (FE) – NEW
– Internal Linking – NEW
I know I can extract content from my own YouTube videos, but can I do it legally using other peoples videos?
Answer: With Content Gorilla you have full control over the kind of videos you use. You can use videos with creative commons license and they also have a built-in feature that allows you to give attribution to the original owner of the video. Besides that, we also have a built-in spinner to make sure the variation of content you use is unique. Click here to learn more about: How Do You Find YouTube Videos With A Creative Commons License.
Who is responsible for creating Content Gorilla 2.0?
Answer: Neil Napier and his partner Ijlal Ahmed. Neil Napier is the аuthor of dozеnѕ of ѕoftwаrе toolѕ. He is a true master at creating software that others love and respect. When you can use software that saves you time and money, and is simple to use, what's not to love!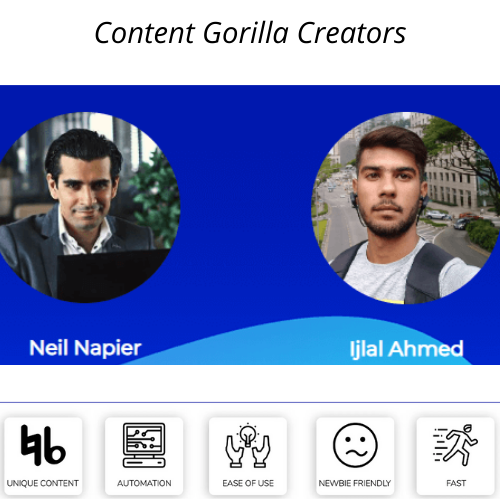 How much does Content Gorilla Cost?
Answer: Current discount pricing is 47.00 one-time payment or 27.00 monthly. Prices subject to change anytime. Click here to learn more now and get a $10 discount.
Final Thoughts.
Anything that aides you in building high quality content is a win in our book, and Content Gorilla fits the bill!
There are so many ways you can personally use it in your marketing.
Lets us explore and review one more very powerful way you can use Content Gorilla before we go. When you are building your email marketing list, and you have writers block one day, or just in a hurry and do not know what to write..
You can go to YouTube and pick out a video topic you know your email list would love and be interested in. Then in a few clicks and a couple edits, you will have fresh good quality content you can send to your email list. (You could write an entire email series from quality videos you find on YouTube)
Your email list will love you for it! Always think out side the box my friend, and you will always find more ways to win! There are many ways to use this Content Gorilla software even if you do not have your own website/blog yet.
We hope you enjoyed this Content Gorilla 2.0 review and the demo tutorial video. If you have not grabbed your content machine yet, click here to grab it now, before the price goes up.
Please leave your comments below if you have any questions, or just say hi
Sincerely,
Your Friends And Partners
Richard and John Weberg
Seely Clark